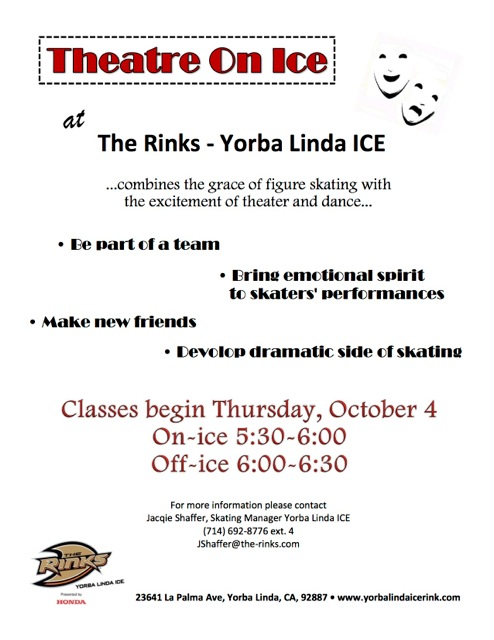 Theatre On Ice @ The Rinks – Yorba Linda Ice
Classes are open to all ages and levels!!!
Pre-preliminary MIF ideal but not required.
No age restrictions at this time.
Theatre On Ice is a creative way to use all aspects of figure skating, incorporating a theme, emotion or story, enhanced by music. It is a PACKAGE that includes five dimensions:
Theme
Music/Sound
Choreography/Skating movements
Performance/The rapport between the skaters and/or sub-groups of skaters
Costuming, Props and/or scenery
What is Theatre On Ice?
Theatre On Ice is a form of competitive figure skating which combines the grace of figure skating with the excitement of theater and dance. Teams consist of between 8 and 30 skaters.  Theatre On Ice must be meaningful and use symbolism: one must bring the audience to feel emotions through simple suggestive elements. Theatre On Ice must express imagination and give shape to abstract
images thanks to body gesture. It is the spontaneous and physical counterpart to words.
Benefits to the Skater
• Gives the skater more confidence when performing at both competitions and shows
• Gives the skater a chance to develop the dramatic side of their skating
• Gives the skater a chance to be part of a team while continuing to use their technical skills
• Gives the skater a chance to travel both locally and internationally
• Gives the skater a chance to make new friends both in and out of the club
• Gives the competitive skater a chance to relax while performing and competing
• Brings an emotional spirit into the skaters competition and show skating