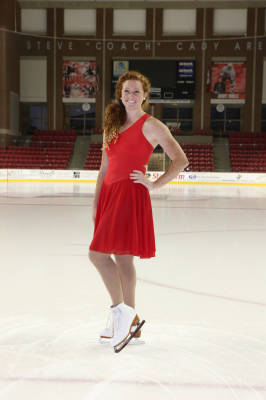 Taylor Walker is the type of girl who can't be overlooked. For anyone who knows her, they would firmly agree. Walker stands out in a crowd in many ways. She is a California girl who has more freckles than you can imagine; crazy, wild, red, curly hair; but most of all, the girl can skate.
Walker is the only senior on the Miami synchronized skating team who has been skating for the senior-level team all four years of her college career, which is an incredible accomplishment.
She began skating when she was five years old and never looked back. So how does a girl from Southern California get herself into skating? 
"I was watching it on TV when I was five years old and decided I wanted Kristi Yamaguchi's dress," explained Walker.
But skating isn't all about the dresses and sparkles. 
Walker and the rest of the Miami synchronized skaters practice on-ice five times a week, do weight training twice a week, work off-ice on strength and choreography, and continuously travel to compete, while keeping academics a priority. Although there is a lot of time and energy that goes into being a student-athlete, Walker believes that Miami Skating has been a phenomenal experience.
"Miami Skating has been one of the most challenging but rewarding experiences of my life," remarks Walker. "To compete at this level is a huge commitment, and often involves sacrifices that normal college students don't have to make. But being on a team where 20 people share a common goal and are each willing to put 100-percent effort into achieving that goal is completely worth it."
Walker and the rest of the senior team worked toward and achieved their goal of earning a spot to compete at the ISU World Championships this year. But participating in this sport requires a lot of commitment. Walker gives her own advice for aspiring skaters who want to compete at the collegiate level. 
"The best advice I could give is to make sure your heart is in it," said Walker. "If you don't love the sport and you aren't ready to make the commitment, you're letting your teammates down, potentially taking the spot of someone else who wants it more, and missing out on the life that you'll ultimately resent having to sacrifice. But if you know that this where your heart is, be ready to put in everything you've got so that you can fully experience everything it has to offer!"
And the opportunities synchronized skating has to offer are extraordinary Black jack.
Walker and the senior team travel to Boston, Mass. April 2-6 to compete in the ISU Synchronized Skating World Championships. Check MURedHawks.com and follow Miami Athletics on Twitter @MiamiRedHawks and Miami Skating at @MiamiSkating for up-to-date news on the event.