The Glacier Falls FSC Summer Classic Open Competition

The Glacier Falls FSC is pleased to announce the 2009 Summer Classic Open Competition!

Dates are August 7th thru 9th. Applications are due by July 3rd.
On-Line Registration Available:
On-line registration is available this year using the entryeeze system. All popular forms of payment are accepted.
Note: Coach e-mail address, and a home-club e-mail address (membership chairperson preferably) are required information for on-line registration.
As an added bonus, entry fees are discounted using on-line registration.
Register On-Line
&nbsp
Planned Program Content Form:
Skaters may submit their PPC Forms in 2 different manners this year:

Paper form (download below) mailed to the Registrar of the Summer Classic
Online entry through USFSA Online Website. Go to: www.usfsaonline.org (click USFSA Icon at the right) > log in > online event reg. > event manager > program content
Practice Ice:
Please check back for practice ice availability.
Coach and Professional Credentialing:
Each coach will need to present their Coach Registration Card (CRC) and a government issued ID (Driver's License, Passport, etc.) to the registration desk, prior to being issued their credential.
In the event that a coach has not yet received their CRC, the coach will be asked to provide their gov't issued ID, their USFSA card, their PSA proof of membership and a copy of their confirmation that their required background check is in process. Then, the co-chair and/or Chief Referee will determine if the coach will receive their credential.
No other exceptions to the background check process will be allowed.
Documents:
The following documents are currently available for downloading. They are in Adobe Acrobat format: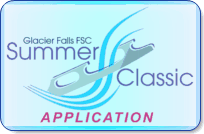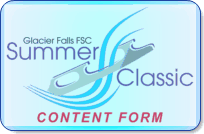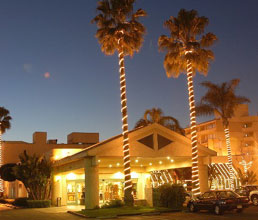 Lodging Partner:
Special competition rates are available from the Anaheim Park Hotel. When booking your stay, please mention the Glacier Falls Figure Skating Club for preferred rates.
This full service, 287-room Anaheim hotel is located just 15 minutes from Disneyland Park, California Adventure, Downtown Disney and Knotts Berry Farm. They are 1.7 miles from Anaheim Ice. In addition, they are also within easy reach of California beaches including Huntington, Newport and Long Beach, downtown Los Angeles, Universal Studios Hollywood and nearby John Wayne and LAX airports. Their complimentary shuttle transports you anywhere within a five mile radius of the hotel (including Anaheim Ice!).
Anaheim Park Hotel
222 West Houston Avenue
Fullerton, California 92832
714-992-1700

Location/Directions:
The Summer Classic will be held at its traditional location at:
Anaheim Ice (Formerly Disney Ice)
300 W. Lincoln Ave, Anaheim, CA 92805
(714) 535-RINK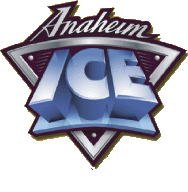 From the 91 Fwy, take the Harbor Blvd. exit south to Lincoln Ave. Turn left (east) on Lincoln.
From the 5 Fwy, take the Lincoln Ave. exit. Go east on Lincoln past Harbor Blvd.
Proceed one block east on Lincoln and turn right at the first traffic light, Clementine St. The rink is on the right side of the street, parking is in the structure on the left side. Turn left at the first opportunity, W. Oak St., then right into the parking structure. During the week, Anaheim Ice validates parking.
Please do not park on the promenade in front of the rink. Mind the parking restrictions on streets surrounding the rink. Parking on the west side of the rink is reserved parking.
Click on the logo below for a map of hotels, entertainment, parking, and airports for the competition.

Competition Management:
Volunteers
Anyone interested in volunteering time to help better our Summer Classic competition can send a note to: Tom Kelly. Please include areas that you can help with, and any special talents you have that may better our competition.